InCord's Safety Netting Supports Industry Workers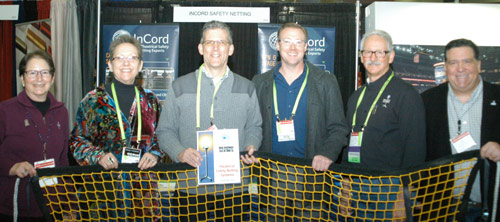 InCord made their 2022 donation to Behind the Scenes on the show floor at USITT reflecting a percentage of profits from sales of their Theatrical Safety Netting Systems. The systems (https://incord.com/theatre-division/) are hand-crafted in the USA by skilled artisans, safety tested to exceed all applicable industry standards, and are custom designed by professional engineers to perfectly fit your orchestra pit and/or protect your stage and house operations according to your technical and aesthetic requirements.
Joe Menhart, InCord's Theatre Division Sales Manager, commented, "We are delighted to provide this needed support to BTS especially when so many more are still in need due to the ongoing global pandemic that is now stretching over two years. Our hearts go out to all those who benefit from the grants and resources provided by BTS."
Todd Spencer accepted the check along with other members of the Behind the Scenes Board of Directors. Todd commented, "We are so appreciative of InCord's donation. Their concern for the safety of industry workers is built in to their product and their commitment to Behind the Scenes. Our Pledge-of-Support Program is the perfect vehicle for InCord and their customers to demonstrate that concern."
For more information about joining the Pledge-of-Support Program by naming a product or service to support the charity, please visit https://wp.behindthescenescharity.org/pledge-of-support-program/ or email [email protected].