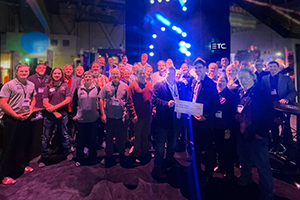 ETC's iRFR and aRFR Apps – Caring for Your Colleagues
ETC presented Behind the Scenes with a check during LDI for $26,493 representing proceeds from sales of the company's iRFR and aRFR (Radio Focus Remote) applications. Since the launch of the iRFR in 2009, ETC's mobile app sales have now generated over $465,000 in donations.
The iRFR and aRFR mobile apps enable convenient, touchscreen-based remote control for Eos family consoles and controllers. You can learn more about the apps from the ETC website and download them from the iTunes or Google Play stores. 
Upon presenting the check, David Lincecum, Vice President of Marketing for ETC, stated, "Taking care of each other has always been part of ETC's culture. Having this corporate value so closely aligned with Behind the Scenes is a big reason why ETC employee owners are honored to be able to support their peers in this way. This is a true investment in our industry, our family, our friends and our future."
Tobin Neis accepted the check along with other members of the Behind the Scenes Board of Directors. Tobin commented, "It's hard to find the words to convey how grateful we are to the employee owners of ETC for their incredible support of the charity over the years. Their care and concern for both the physical and mental well-being of their industry colleagues speaks volumes about the people they are and the culture of the company. Recognizing the human toll this industry takes and actively doing something about it sets an example for companies of every size to follow."
Learn more about joining the Pledge-of-Support Program by naming a product or service to support the charity.